How to hashtag (and photo credit) #likeaboss
I get it. I do.
It's hard to remember to credit your photographer every time you post something on Instagram. There are so many hashtags and tags to include, plus the location, not to mention the caption - something, sometimes, gets missed.
But...what if it wasn't that hard? What if you could automate your hashtag / photo credits, for every show? And what if it was actually EASIER than typing them on your phone, even ONCE?
Oh, but it can be. It really, really can.
Here's the thing - and I have to admit, as an iPhone / iPad / Mac user, I'm mostly talking to other Apple-people here, just because that's the system I know. (The Android version of this is here, I can't test it myself though!)
The trick here is Text Replacement: you can set up a keyword that, whenever you type it, gets auto-replaced with anything you want.
Have a look at the setup I've got (and this is the bare minimum, currently): if I type "theatretags" on my phone, it automatically turns into "#theatrephotography #theatre #sydney #photographingthearts #aipp #photography" for me. I've got specific sets for music images, photos I've taken with my Fuji cameras, and essays I post for the Kage Collective.
Of course, I could set that to anything I want - and I could easily include "Photo by Robert Catto" or "📸 @robertcatto" in there, too. (But it's kinda implied, when I post my own work on my own Instagram account. At least, I hope it is!)
If I was marketing a theatre company (for example) and needed to post images for each of the shows in our season, with a few shows on at the same time, I'd just set up new replacement keywords whenever I had a new set of publicity images, and use them whenever I was posting a new image from that show.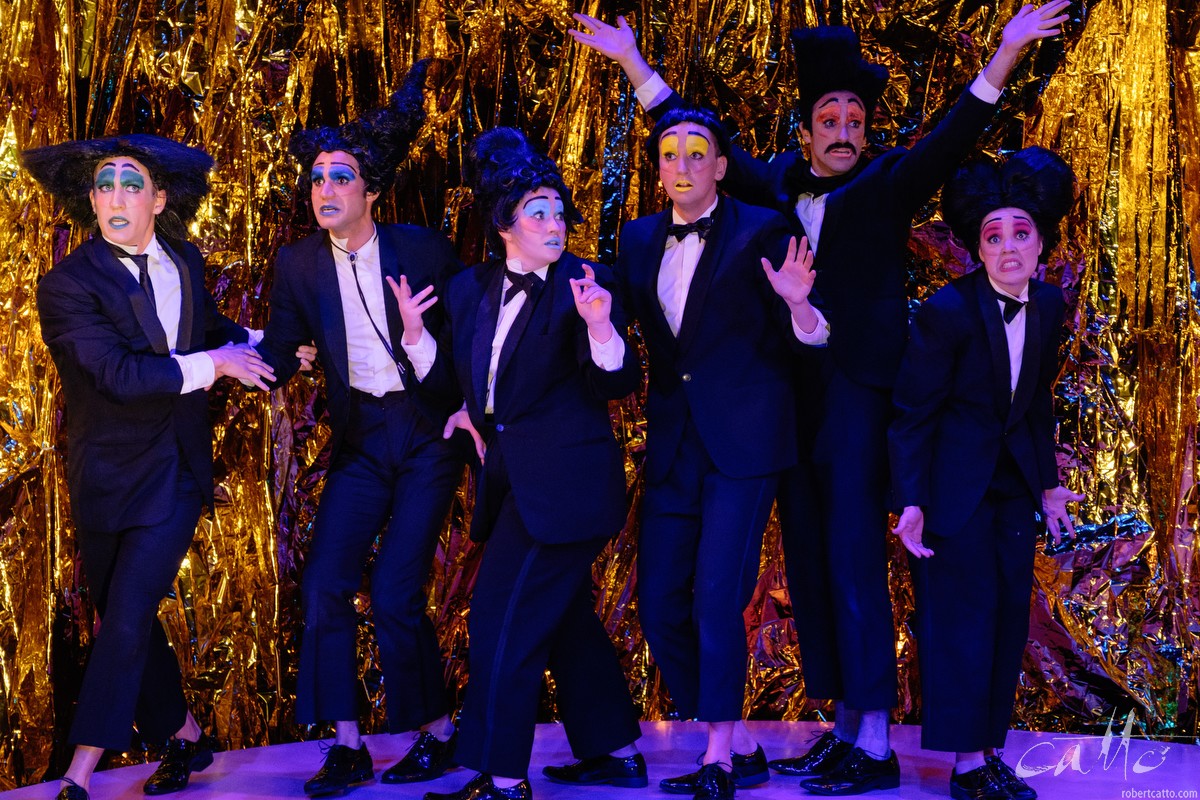 At the Old Fitz Theatre, Sydney.
So with a show like There Will Be A Climax at the Old Fitz Theatre (since I happen to have those photos handy), you could use "redtags" for the standard Red Line Productions tags used across all productions, "maxtags" for the images from that particular production, including the photo credit, and "18tags" for anything you specifically wanted to set up for use this season.
It's just a matter of inventing a keyword that you won't use normally in a sentence, so you don't accidentally trigger it while writing an email. (Or typing a blog about it, like I have just now.)
And you can be even more clever than that - you can use these as building blocks. There's no reason each keyword needs to be all-encompassing; for example, I sometimes have music images taken on Fuji cameras that I post on the Kage site, in which case I might use all three of those keywords in a row, at the end of a post.
So - the best part? The one I've saved for last?
Here it is: you don't even have to type these on your phone in the first place. If you use iCloud to sync your settings between devices, you only need to set these up once - on your Mac, or your iPad - and they'll automatically get copied over to all your other devices...!
So you type 'em up once, on the biggest / closest keyboard you've got handy - and from then on, all you have to do is smash a couple of shortcuts.
Could it actually be any simpler...?
Bonus tip for Facebook: Use Metadata!
But wait - there's more!
Have you ever uploaded a series of photos to Facebook, and discovered that it had automatically filled in the captions with text you didn't even see connected to the image files? That's the metadata for the file - something pretty much any photographer can (and should) fill in, when they're importing image files from their camera.
The metadata (or IPTC) fields were designed for media use; that's how captions and credit info get transferred to news organisations, when a photo goes out via a wire service or a stock image library. They can be incredibly powerful - and useful later for searching through vast archives of images - but in the short term, they're great for sending captions & info about a show to media, and also to Facebook.
Here's how it looks the way I add it, using Photo Mechanic - there are a range of info fields available, but the ones Facebook seems to draw info from are Headline and Description/Caption. I tend to go to the theatre company's site and find the show info, cast & crew, etc - that way I know the text I put in there has already been approved by the marketing department, so it's likely to be helpful for them not to have to type it again...!
The key here is to upload the images into an album, rather than an individual post. When you go to Photos on your Facebook page, there's a box at the top that says "+ Create Album" - hit that, you can upload as many images as you like, and the headline & description metadata will become the caption for each individual image in the gallery - you don't have to type a single thing, unless you want to individually tweak them. And, of course, you can simply cut & paste that text into the album title & description too, if you want!
So if you've got specific info you'd like included when you're uploading images from a show to Facebook, why not just send it to the photographer before they photograph the show, and ask them to put it in the description for you? They're probably going to put something there anyway - might as well be what you want!
And - while they're at it - they can put their photo credit at the end, so there's one less thing to remember to do later...and once again, everyone wins.