I Love You Now at Darlinghurst Theatre Company, Sydney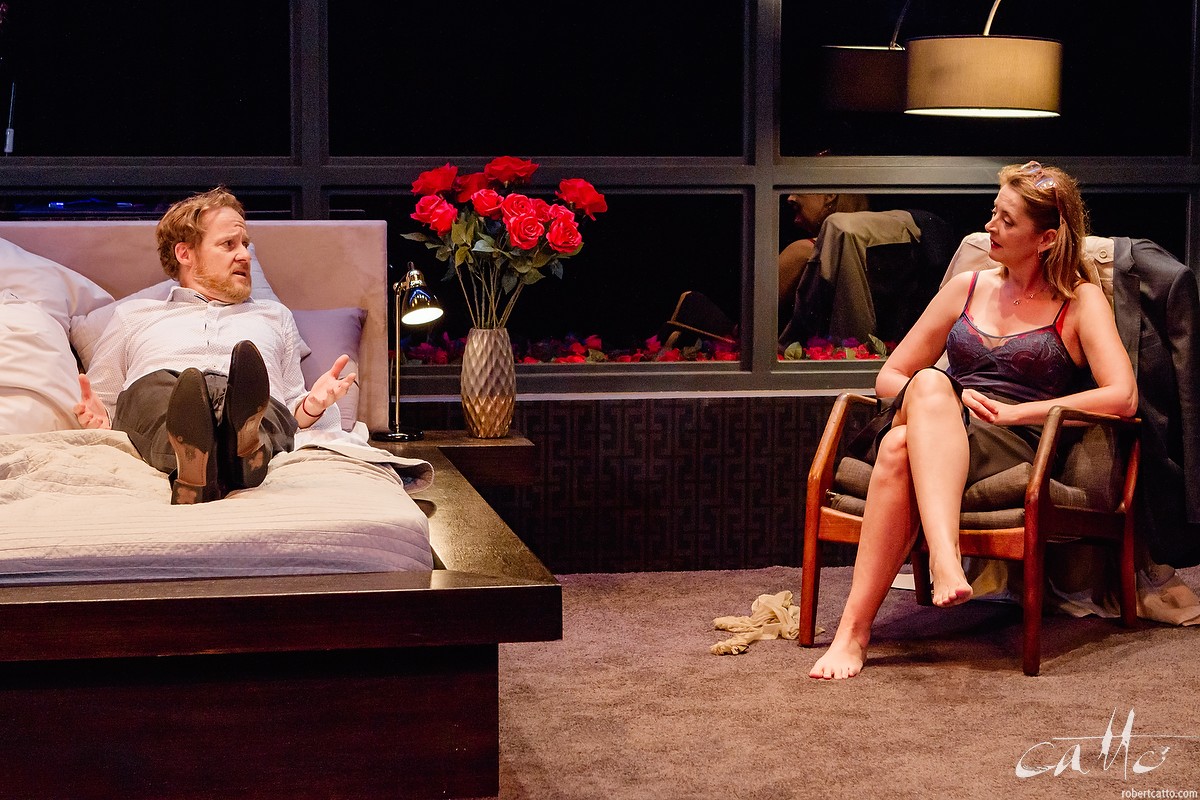 Paul Gleeson & Jeanette Cronin in I Love You Now
At Darlinghurst Theatre Company, Sydney
Last time I was over at Darlinghurst Theatre Company, it was for a surrealist door-slamming farce; this time, it was a bit less farcical - but doors were slammed nonetheless...
Jeanette Cronin (who I photographed last year in The Shadow Box at the Old Fitz, also directed by Kim Hardwick) is this time both writer and co-star in I Love You Now - not so much a farce as a series of overlapping stories about modern love, lust, relationships and death, all played out in a single hotel room. Punctuated with live music, and tango!
It's an interesting new script, and one that bears listening to closely - so while my mind was on photographing Jeanette and Paul Gleeson, I missed quite a bit of detail and character (especially important as they're each playing a number of people), all of which became a lot clearer on opening night, fortunately for me.
It's always interesting to see how the stage of the Eternity Playhouse changes, from show to show; as an adapted Baptist Tabernacle, it has the option of a relatively open set design that shows off the existing architecture. This time was quite the other extreme, with a proscenium stage set quite far forward in the auditorium - wide, rather than deep, with windows at the back, and live musicians on stage behind them.
Of course, windows reflect quite a bit - which does make it interesting to photograph towards them. I do usually wear black to a photo shoot for exactly this sort of reason; but I'm not usually in a balaclava and gloves to make myself completely invisible...!
Fortunately, that didn't end up being necessary; the lighting design was as contained as the set, which meant that not much spill came forward into the house, where I was. We had a bit of time to cover the lights on the stairs before rehearsal started, and I worked around the reflected exit sign at the back of the room; so all in all, it was manageable.
Which just left the challenge of how to photograph the show, of course! With a minimum of set & costume changes (well, clothes were taken off and put back on, at least), I was looking harder than usual to find a range of viewpoints and angles, ways of connecting and separating our two performers, over the course of a one-act piece.
A shallow, wide stage with a small cast like this can work against a photographer; it means the distance between characters can be vast, and that makes them very small in an image. So, often I'd be waiting for them to meet back up again, or choosing one of them to capture a tighter individual image of in the mean time, rather than trying to get them both at the edges of the set.
But, as I've mentioned before, usually that's the best sort of approach to take, in photographing a show - find a mix of closeup, mid- to full-length, and wide-angle views of the production, as some will suit social media, PR / press, and marketing uses, while others will work for designers' portfolios later, or just as records of how the set fit into the building in case it gets restaged in future.
It's a matter of keeping everyone in mind, while staying focussed on the actual action on stage at the time. That's photographing the arts for you...!
I Love You Now by Jeanette Cronin continues at the Eternity Playhouse until 9 July.
Cast: Jeanette Cronin & Paul Gleeson
Director: Kim Hardwick
Production Designer: Isabel Hudson
Lighting Designer: Martin Kinnane
Sound Design & Composition: Max Lambert & Roger Lock
Stage Manager: Keiren Smith
Choreographer: Pedro Florentino Alvarez