Wellington's Downstage Theatre during the New Zealand Festival, 2004: The Prophet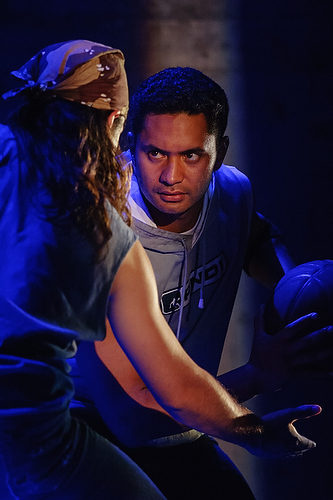 Like a lot of current & former Wellingtonians, I was saddened to hear that Downstage Theatre will be closing later this week; I won't get into the politics of the funding situation over the years, but of course it's a sad day when a theatre closes, for whatever reasons. In my 15 years in the city, I spent a fair bit of time there - as a box office manager, lighting technician / designer, photographer, and on stage once as a guest speaker - and of course as an audience member at numerous shows over the years.
Friends have worked there, designed there, performed there; so of course a lot of us are hopeful the place will have some kind of future, and not be torn down for a block of flats or some equally ignominious fate.
I understand the ownership of the building is shared between the city council and the Hannah Theatre Trust, who are able to rent it out to other theatre companies if needed; so here's hoping it can continue to function as a venue for the Festival at very least, and other companies year round.
Anyway - what I'll do for the next few days is post photos from the productions I've photographed there for the New Zealand International Arts Festival over the years, many of which have probably never been seen before.  Here's a 2004 production to start with - Taki Rua Theatre's show, The Prophet...